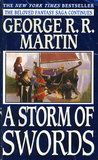 A Storm of Swords by George R.R. Martin
I just finished the third book of George R.R. Martin's A Song of Ice and Fire Series.
This series is, as everyone knows, the storyline behind the Game of Thrones TV series. Not long ago, and before I read the first novel, I bought the first season of the show on DVD. I watched the first episode and liked it. The problem for me though was all of the explicit sex and nudity. I've got three little kids at home and I don't want them seeing any of that stuff. Plus, me being a married man, I thought it best if I didn't watch it either. I returned the DVDs. However, later on, I did end up binge watching all six seasons of the TV series online. Despite the unnecessary sex and nudity, the show is excellent.
The novels and the TV series tell a story which I believe is very relevant to our world today. Martin obviously bases his world on the real one, and does a good job illustrating the conflicts we see today; for example: the true threat against Westeros is coming towards the ill defended wall, but the kings and lords are apathetic to the danger as they fight one another to establish their own power. The one question I found myself repeatedly asking while watching and reading is: Where is the righteous king who will come and set everything right?
There are two more published novels after this third one (A Feast for Crows and A Dance with Dragons) and there are apparently two more in the works. Also, it's said there will be another two seasons of the TV series. I don't know if I'll bother watching the new TV seasons coming as I am into the novels now. I do hope the author actually finishes the series.
The novels run at about 1000 pages, but it's still effortless reading.
Just to illustrate how good the TV show is, here is a clip from season six, episode ten (spoilers of course)…..
My rating of A Storm of Swords: 5 of 5 stars